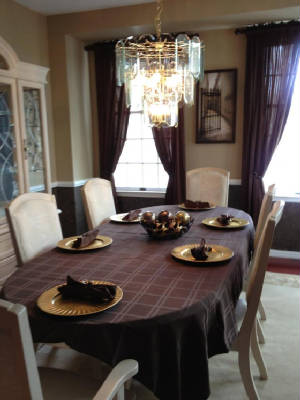 Finished dining room with faux painting below chair rail
Are you someone who puts up with broken things either because you don't know how or don't have the time to fix them? Would you rather not have a man you don't know come into your home? How about having a skilled woman do the work!
I've gained my skills from working on the 270-year-old farmhouse (George Washington was ONE when it was built!) that I bought eight years ago, doing extended Habitat for Humanity builds in Alaska and South Dakota and helping my father renovate our house when I was in high school. My previous career was in business management with 18+ years in operations management in a pharmaceutical company and eight years of business consulting with a practice I founded.
I'm happy doing this work as I can see a tangible result and I enjoy seeing people smile when they see their home refreshed. We all know the joy of finally being able to easily use something we've put up with being broken for too long as well as the feeling of a freshly painted room. I am an experienced "Jill of All Trades". Together we can bring comfort and renewed beauty to your home.

I am licensed (PA 071212) and fully insured.
My services include:
Painting
Wall Stencils/ Stripes
Refinishing floors
Hanging pictures/curtains/blinds/shutters
Caulking sinks/tubs/windows
Assembling or repairing furniture
Removing wallpaper
Coordinating complete estate cleanouts
and more!
FREE ESTIMATES...give me a call.